Discover more from Our Urban Farms
A sustainable living Substack about growing food and medicine and living well in small spaces
It's Show[ing] Time!
Oh, my! After much thought, planning and hard work Our Urban Farm is officially on the market as of today. Whew! It's been an effort getting to this place. But, after the photographers got done shooting, we have to say, the work has paid off.
The public listings of Our Urban Farm currently only show the outside of the house. Our realtors want there to be a bit of anticipation about seeing the inside of the home in order to promote the upcoming open house that is scheduled this Sunday 10/22 from 1 - 3 PM. As a subscriber to Our Urban Farms, we thought we would give you a special sneak preview and have included some of the photos below.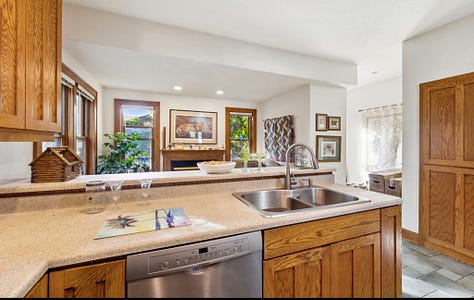 As we have been getting ready, our moving pod being set up out front and work crews coming and going, we have been inspired by the numbers of neighbors coming by to talk about our upcoming plans to move to Vermont. These conversations have been great reminders of what a wonderful neighborhood we are leaving. We are happy that the good energy from Our Urban Farm has inspired others and has spread goodness and community through the neighborhood. It has been surprising to be reminded just how many raspberry plants we have spread around, and to know how much they are loved and appreciated.
This will be a difficult home and neighborhood to leave. Yet, we are confident that our future plans are exciting. So, tonight, we are feeling blessed with a lovely history, present and future. We hope you all will continue following our progress as we move to 4 acres (only 1 of which is actually ours) of maple forest in Montpelier, Vermont. We'll be setting up more chicken and gardening space. We will be doubling our solar production and adding a large greenhouse. There will be bear with which to learn to coexist, and other new things to learn along the way. We expect it to be a lot of fun and hope you continue to follow along with the adventure.
But, for now, it is show[ing] time! http://oururbanhome.com