Discover more from Our Urban Farms
A sustainable living Substack about growing food and medicine and living well in small spaces
There are few things that stand out about this house more than the built-in oak buffet in the dining room. It includes 4 custom, built-in stained glass windows made by our sister, which take the already stunning, old Minneapolis red oak buffet to a whole other level of beauty. The colors on the (often assumed to be original) stained class perfectly enhance the oak wood work in the entire room, including floors, trim and crown molding, all of which are original to our South Minneapolis Craftsman home that was built in1920. The 103-year-old red oak catches your eye the minute you walk in the door. It is a stark contrast to the gleaming high-tech solar panels on the roof above it, part of an 18-panel 5 kw solar power system we had installed a few years back, or the earthy, DIY concrete, wood-fired pizza oven out back.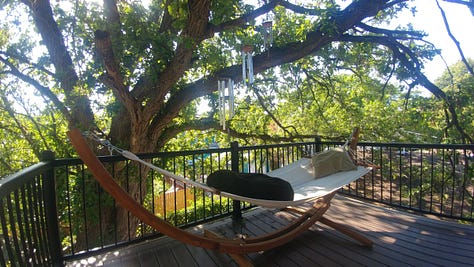 Over the last 30 years, we have lovingly expanded our small, Craftsman-style bungalow, carefully blending the old with the new, to create a sustainable sanctuary in the heart of the City. We have managed to use every square inch of the house and yard in ways that are harmonious with our neighborhood wildlife, and being on a world-class migration route for birds and butterflies, the wildlife is pretty spectacular. And, as we prepare to leave it, exactly how special our house is remains ever-present in our minds, as does the reality that we need to downsize for our big adventure that is ahead.
Take a Bit of Our Urban Farm Home with You
As we prepare to put Our Urban Farm on the market, we are cleaning, clearing and gardening. We have free stuff on the sidewalk in front of our house. We are also digging out and giving away some of our well-known and highly prolific raspberries (while supplies last). Send us a text to 612-590-1868 and we will get some set for you.
Our New Adventure
We are heading to Montpelier, Vermont where we recently purchased a 1 acre lot of maple forest where we are building a small and very sustainable home within walking distance to the downtown area of the State Capital. Pictures of the land are below.